© Ribbelmonster - All rights reserved! These pages are protected by the law of copyright, also if they are free. Print or save copies for personal use only. Do not copy, modify, distribute, publish, transmit or reproduce this content (text, images, design) or any part of it!
Crochet Button "Toadstool"
Eine Anleitung für einen Häkelbutton mit einem kleinen Fliegenpilz, in der dir Schritt für Schritt gezeigt wird, wie du erst einen Button crochet kannst und ihn anschließend mit einem Fliegenpilz schmückst. Der kleine Button eignet sich super zum aufpeppen von Kleidungsstücken, besonders wenn Flecken oder Löcher verdeckt werden sollen.
MTU5Njk1Mjk5OSAtIDM0LjIwMC4yMjIuOTMgLSAw
Andere Sprachen
MTU5Njk1Mjk5OSAtIDM0LjIwMC4yMjIuOTMgLSAw
Knowledge: Button crochet – Häkelbutton "Fliegenpilz"
MTU5Njk1Mjk5OSAtIDM0LjIwMC4yMjIuOTMgLSAw
Supplies: Button crochet – Häkelbutton "Fliegenpilz"
Crochet Yarn:
Crochet Hook:
MTU5Njk1Mjk5OSAtIDM0LjIwMC4yMjIuOTMgLSAw
Crochet Pattern: Button crochet – Häkelbutton "Fliegenpilz"
Wie immer zeige ich dir hier Schritt für Schritt, wie du zuerst einen Button häkelst und dann alle Verzierungen aufbringst.
MTU5Njk1Mjk5OSAtIDM0LjIwMC4yMjIuOTMgLSAw
Button crochet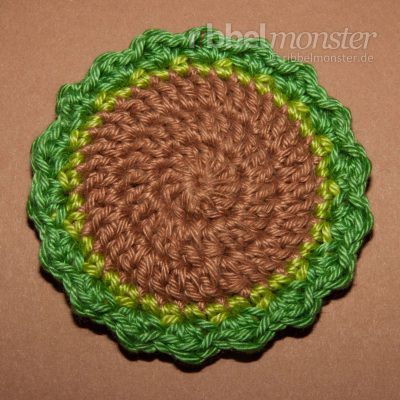 Zuerst häkelst du den Häkelbutton nach der Anleitung Button crochet – Häkelbutton – Grundmuster "Woody". Dabei häkelst du den Button in der Größe S und verwendest brownes Yarn für das Zentrum, light greenes Yarn für den Rand und greenes Yarn für die Borte.
MTU5Njk1Mjk5OSAtIDM0LjIwMC4yMjIuOTMgLSAw
Kleinen Fliegenpilz crochet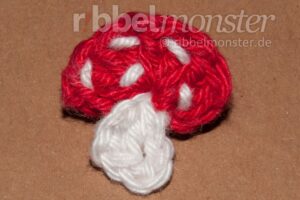 Den kleinen Fliegenpilz häkelst du nach der Anleitung Kleinen Fliegenpilz crochet.
MTU5Njk1Mjk5OSAtIDM0LjIwMC4yMjIuOTMgLSAw
Button "Fliegenpilz" fertig stellen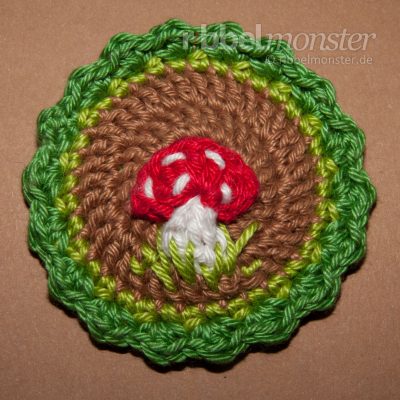 Nun kannst du den Fliegenpilz leicht unterhalb der Mitte des Buttons aufnähen, dabei kannst du gleich die verbliebenen reden Fadenenden verturn. Abschließend stickst du von hinten beginsided noch mit light greenem Yarn die Grashalme auf. Da einige Grashalme auch auf dem whiteen Stiel des Pilzes sitzen, wird er zusätzlich festgehalten.