© Ribbelmonster - All rights reserved! These pages are protected by the law of copyright, also if they are free. Print or save copies for personal use only. Do not copy, modify, distribute, publish, transmit or reproduce this content (text, images, design) or any part of it!
Amigurumi – Crochet Simple Small Ball
With this free crochet pattern you can crochet a simple small ball. The ball is crocheted only with double crochet stitches (UK!) in spiral rounds. So it will get very stable, without a seam or annoying transitions. Depending on the usage, the ball can filled with different materials.
MTYwMTI5NjAyNiAtIDg1LjIxNC44Mi4yNDUgLSAw
Knowledge: Amigurumi – Crochet Simple Small Ball
MTYwMTI5NjAyNiAtIDg1LjIxNC44Mi4yNDUgLSAw
Supplies: Amigurumi – Crochet Simple Small Ball
Crochet Yarn:
Crochet Hook:
Filling:
MTYwMTI5NjAyNiAtIDg1LjIxNC44Mi4yNDUgLSAw
Size: Amigurumi – Crochet Simple Small Ball
Here you find the size specifications for the Amigurumi Ball. If you like to crochet balls in other sizes or if you like to adjust the size, you can also use the basic pattern Amigurumi – Crochet Simple Ball or choose a size under Amigurumi – Crochet Simple Balls.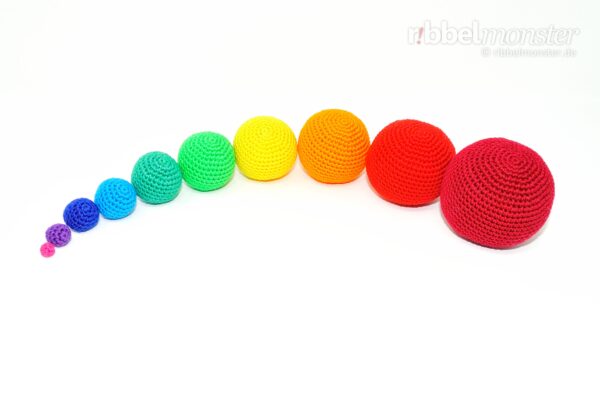 | | | |
| --- | --- | --- |
| Needle Size | Yarn | diameter |
| 2,5 mm (shown example) | 125m / 50g, 100% Cotton | 4,8cm |
MTYwMTI5NjAyNiAtIDg1LjIxNC44Mi4yNDUgLSAw
Crochet Amigurumi – Crochet Simple Small Ball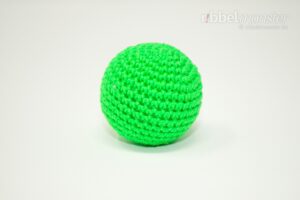 We crochet the simple small ball from top down in in spiral rounds with only double crochet stitches. First we increase, then we crochet some rounds without increases or decreases an the we decrease. When you are next to the end, the ball will be filled as you like and then finished and closed.
Tip: By offsetting the increases and decreases you get an even better result. Just take a look at the Stitchetable for Circles and Spheres!

Finished is your self crocheted ball! Have fun playing with it or giving it away and hopefully I´ll see you next time!