© Ribbelmonster - All rights reserved! These pages are protected by the law of copyright, also if they are free. Print or save copies for personal use only. Do not copy, modify, distribute, publish, transmit or reproduce this content (text, images, design) or any part of it!
Crochet Egg Warmer "Bobbin Beanie BigBobble"
It´s really not hard to crochet a egg warmer. Here I´ll show you a simple egg warmer looking like a bobbin beanie. This way your breakfast eggs don´t freeze anymore and look stylish. 😉
MTU2MzYwMjY1NiAtIDE4LjIzMi45OS4xMjMgLSAw
Knowledge: Crochet Egg Warmer "Bobbin Beanie BigBobble"
MTU2MzYwMjY1NiAtIDE4LjIzMi45OS4xMjMgLSAw
Supplies: Crochet Egg Warmer "Bobbin Beanie BigBobble"
Crochet Yarn:
Crochet Hook:
Bommel: carbboard, pencil
MTU2MzYwMjY1NiAtIDE4LjIzMi45OS4xMjMgLSAw
Crochet Pattern: Crochet Egg Warmer "Bobbin Beanie BigBobble"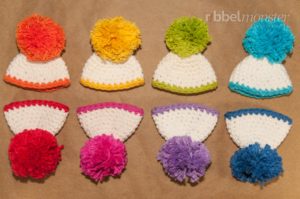 You can crochet the egg warmer with one ore more colours. Also you can crochet them in circle rounds or spiral rounds. But I recommend you to crochet circle rounds. The result is a egg warmer without ugly edges on colour change and there will be a nice straight edge at the bottom.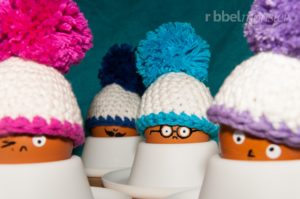 We crochet the egg warmer from top to bottom. All rounds beginning at round 7 are depending on your taste. In this size the crocheted egg warmer will fit an egg of the size M or L and reaches almost the edge of the egg cup if you put it on straight and complete.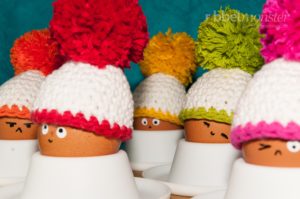 Because eggs and egg cups are different, you should adjust the length of your egg warmer to your needs. To do this, just put the egg warmer sometimes on the egg after you reached the 7th round and estimate the exact length.
MTU2MzYwMjY1NiAtIDE4LjIzMi45OS4xMjMgLSAw
Eierwärmer "Pudelmütze BigBommel" fertig stellen
At the end you just have to tinker a bobble and sew it on top.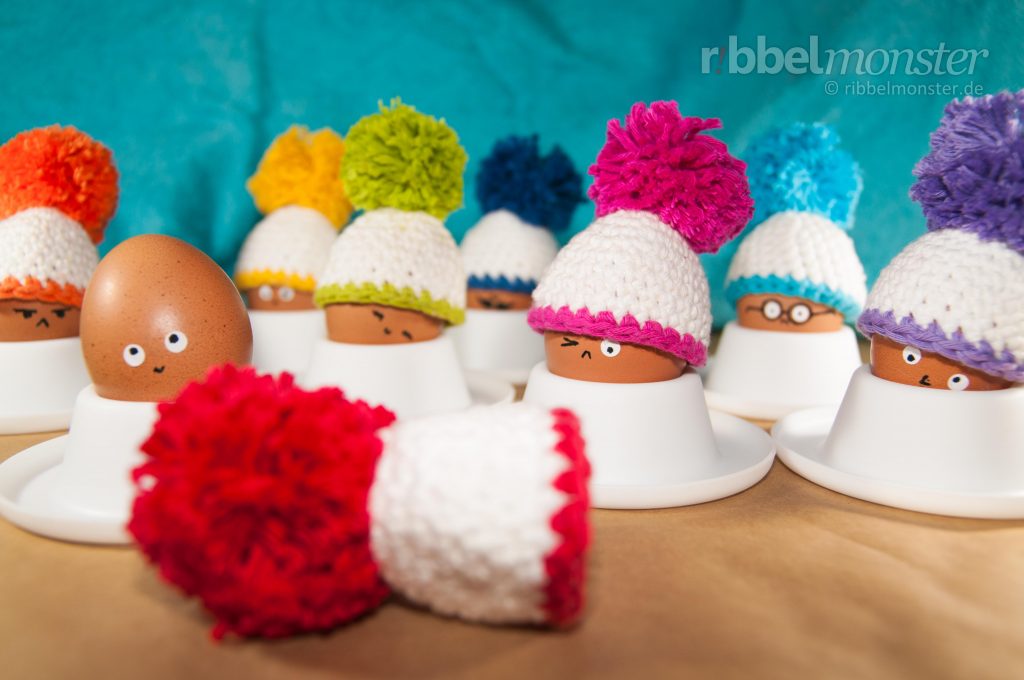 MTU2MzYwMjY1NiAtIDE4LjIzMi45OS4xMjMgLSAw
Crochet and Design a Egg Warmer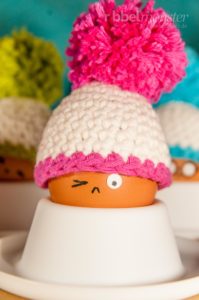 I´ve crocheted the egg warmer almost in white and made just the last row of another colour. The bobble is made of crochet yarn in the same colour. Of course you can  also crochet a striped bobble hat or embroider a fancy pattern at the end. Your imagination has no boundaries. Have fun!