© Ribbelmonster - All rights reserved! These pages are protected by the law of copyright, also if they are free. Print or save copies for personal use only. Do not copy, modify, distribute, publish, transmit or reproduce this content (text, images, design) or any part of it!
Amigurumi – Crochet Smallest Toadstool "Kulgo"
Heute wollen wir einen kleinsten Fliegenpilz crochet. Der Fliegenpilz mit der kugelrunden Haube ist eine wunderbare Dekoration für den Herbst, ein toller Glücksbringer und auch ein hübsches Spielzeug. In dieser Anleitung zeige ich dir, wie du Schritt für Schritt einen kleinsten Fliegenpilz crochet kannst.
MTU5MTAzMjI2MyAtIDMuMjMwLjE1NC4xMjkgLSAw
Knowledge: Amigurumi – kleinsten Fliegenpilz crochet "Kulgo"
MTU5MTAzMjI2MyAtIDMuMjMwLjE1NC4xMjkgLSAw
Supplies: Amigurumi – kleinsten Fliegenpilz crochet "Kulgo"
Crochet Yarn:
Crochet Hook:
Filling:
für Verzierungen:
MTU5MTAzMjI2MyAtIDMuMjMwLjE1NC4xMjkgLSAw
Crochet Pattern: Amigurumi – kleinsten Fliegenpilz crochet "Kulgo"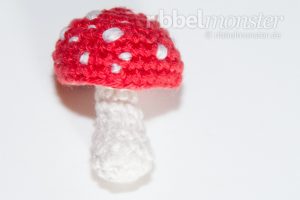 Den kleinsten Fliegenpilz crochet wir in zwei Teilen. Zuerst das Häubchen und anschließend den Stiel. Das ist wichtig, damit die Füllung aus dem Stiel nicht in die Haube rutscht und damit die ganze Form zerstört.
MTU5MTAzMjI2MyAtIDMuMjMwLjE1NC4xMjkgLSAw
Haube für kleinsten Fliegenpilz crochet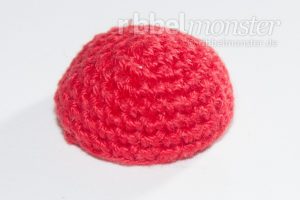 Die Haube für den kleinsten Fliegenpilz crochet wir von oben nach unten in spiral rounds mit ausschließlich double crochet stitches (UK!).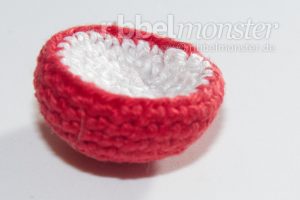 Dabei wird die Haube so gefüllt, das sie oben schön rund ist und sich unten leicht nach Innen wölbt.
MTU5MTAzMjI2MyAtIDMuMjMwLjE1NC4xMjkgLSAw
Stiel für kleinsten Fliegenpilz crochet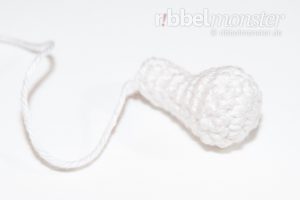 Den Stiel für den kleinsten Fliegenpilz crochet wir von unten nach oben in spiral rounds. Anschließend wird der Stiel bis zur oberen Kante gefüllt und bleibt offen.
MTU5MTAzMjI2MyAtIDMuMjMwLjE1NC4xMjkgLSAw
Fliegenpilz fertig stellen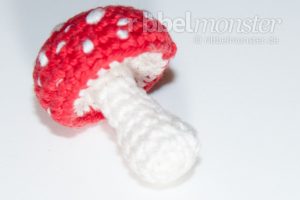 Nachdem du alle Teile fertig gehäkelt hast, wollen wir den Fliegenpilz zusammen nähen. Dazu wird der Stiel mit der offenen Seite mittig unter die Haube genäht. Am einfachsten geht das, wenn du den Stiel zuerst mit Stecknadeln befestigst. Anschließend kannst du die Haube leicht nach oben krempeln und den Stiel mit dem verbliebenen Fadenende ringsherum annähen.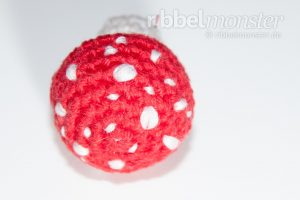 Als nächstes verwendest du whitees Darning Yarn oder Embroidery thread und stickst die Punkte auf. Du erhältst unterschiedlich große und dicke Punkte, indem du häufiger oder seltener um eine oder mehrere stitches stichst.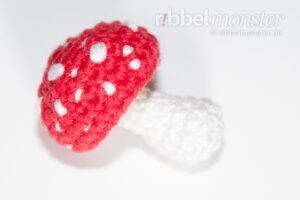 Am schönsten sieht es aus, wenn der Fliegenpilz eine schöne Mischung aus kleineren und größeren Punkten bekommt, die mal mehr und mal weniger werden.
Herzlichen Glückwunsch, dein Fliegenpilz ist fertig. Ich hoffe es hat dir Spaß gemacht! Übrigens könnte der Pilz giftig sein, also nicht abbeißen. 😉